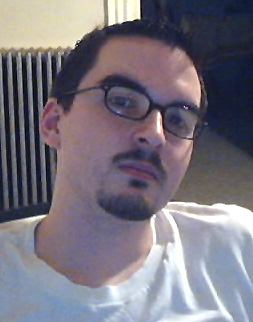 Jim Likes Oil Heat
Jim McLuckie - Song Database Master
Originally from suburban Michigan, now living in the very different rural Pennsylvania, Jim McLuckie's life, in a small part, revolves around Frank Black. As co-owner of the AbstractPlain mailing list, co-founder of frankblack.net, and former lead guitar player for The Bennies (whom he met through the AP mailing list, and have toured with FB&C's after his departure), he has quite a hand in the Frank Black "internet scene." For his part on frankblack.net, he keeps up the FB Song Database, which contains more info than you ever needed to know on every known FB song.
His life revolves around a few basic principles, in no particular order: music, computers, The Simpsons, and games. Dull? I'd say so! In the realm of music, he enjoys listening, playing guitar (and bass, occasionally), writing, and recording (analog, baby). He spends (too) much of his free time on the computer, either surfing the web or playing games. He's been a lifelong fan of The Simpsons (since its Tracey Ullman days), who has a big of merchandise, a nice toy collection, and a mental trivia/quote cache that he unleashes on the unexpecting. On the subject of lifelong, he's been playing video games since he was 2 on the Atari 2600, then the NES (greatest console EVER), Commadore 64, SNES, and finally settled on the PC (currently, mostly online gaming).
He enjoys a varied list of groups, such as Nirvana, Sonic Youth, Beach Boys, Beatles, Hendrix, Radiohead, Weezer, Mogwai, Air, Pink Floyd (Syd Barrett-era + DSOTM), Sex Pistols, Velvet Underground, White Stripes, and many others. His favorite musical era is definitely the 1960's, the greatest decade music has ever seen.