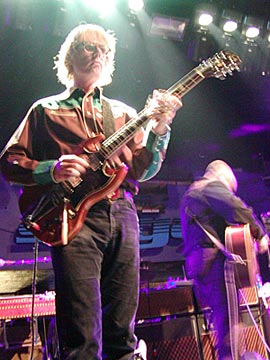 Rich Gilbert: Guitar Phenomenalist
Guitar, pedal steel guitar, keyboards
There is no Catholic nor ex-Catholic, Pixie nor ex-Pixie with a resume so extensive as Rich Gilbert's. He is always working and collaborating with many musicians, and while this makes him more a freelance Catholic than a full-time member, it's great to have the experience, talent, and wild live performances he brings to the band. If you've had the pleasure of seeing Rich perform live, then you are no stranger to him playing guitar with everything from his teeth to a drumstick (see photo) to a fan's empty beer bottle. You've seen him dance around the stage like his guitar's on fire, although it has not yet combusted despite Rich's ultra-fast guitar work.
Lucky thing, too, because some of Rich's wardrobe is probably extremely flammable. When seeing a Catholics show, it is said that there are two factors you can never be sure of. The first is the setlist, which Frank randomly generates on-the-fly. The second is what Rich Gilbert will be wearing. From a tattered Pokemon t-shirt to an all-country embroidered button-up to a red vinyl suit with lime green shoes, anything goes.
You might think that so urbane a character would come from trendy Los Angeles or New York, but Rich Gilbert is actually from the Boston, Massachusets area. Rich has been playing in bands since the beginning of the 70s, and received his first album credit later that decade with Human Sexual Response. He is also credited as writer and guitarist on the 1981 album Figure 14 (re-released with an additional track as Figure 15 in 1992) and the 1982 album In A Roman Mood.
The group didn't last long after their second album, which took the band in a different direction, but Rich, Larry Bongor (vocals), and Malcom Travis (drums) moved on to found the Zulus (after three successive name changes - Wild Kingdom, Gospel Birds, and finally the Zulus) soon after HSR was disbanded. The Zulus released a self-titled EP on Greenwood Records (it has Zulus spelled out with bones on the cover, and is VERY rare, so it goes for quite a bit of money). They also had one LP, Down On The Floor (produced by Bob Mould of Husker Du) in 1988. Meanwhile, he was collaborating with Throwing Muses on their first major release that same year, House Tornado. The Zulus broke up four years later in 1992, but Rich's side-project, Concussion Ensemble released its only album, Stampede a year later. Their subsequent demise allowed Rich to tour with Steve Wynn for nine months ("It was great" says Rich of the experience) and play on Wynn's record Sweetness & Light.
On top of his band and side project, Rich was collaborating with still others, so the breakup of the Zulus was not as bad as it could've been. In 1990, he worked with the band Uncle Tupelo (a rock-country group), as pedal steel and optigan player for No Depression, and in 1991 for Still Feel Gone. He also worked with the Titanics as producer of their 1991 self-titled album, with cowboy-surf band Goober & The Peas on steel guitar/backing vocals 1992, more pedal steel for Charlie Chesterman's From The Book of Flames in 1994, The Lemonheads' Car Button Cloth in 1996, Chris Cacavas' Anonymous in 1997, and Gerald Collier's self-titled second album.
As well, Rich had started working with Tanya Donelly from Throwing Muses on her solo project in 1996, and is credited with mandolin and pedal steel on the 1996 Sliding and Diving; guitar, keyboard, accordion, tiple, saw on the 1997 release Lovesongs for Underdogs; and electric guitar, organ, keyboard, accordion, and pedal steel on her two 2002 releases Beauty Sleep and Sleepwalk.
And, thankfully, there was still time for Rich to join Frank Black starting on Pistolero in 1999, and then on Dog In The Sand, Black Letter Days, and Show Me Your Tears. Rich is almost always present on Frank Black & The Catholics tours despite all this side work.
With the Pixies reunion, Rich predictably hasn't slowed down at all. He's been working with Peter Weiss' Weisstronauts since 2001 on their two releases, and now has some time to devote to his latest project, the Blackstone Valley Sinners, which also released a critically well-received It's A Sin in 2001 as well as The Cold Hard Truth About Christmas in 2002. He's also helped engineer Brian Dewan's 2001 record The Operating Theatre and put together The Coronet Premiers, recording a self-titled instrumental album in 2001. He toured with The Tarbox Ramblers, worked with Steve Wynn and also the Blackstone Valley Sinners in late 2004, and in 2005 he's been working with Thad Cockrell, Kenneth Brian, Last Train Home, Joshua Black Wilkins.
Other more obscure side-projects include CLOWN, Condo Pygmies, Country Bumpkins, Crown Electric Company, and The United States.
If that weren't enough, Rich is now offering guitar lessons to Rhode Island students and has an upcoming learn-to-play-like-Rich DVD coming who-knows-when. The world would be a better place if more people just learned to play guitar with drum sticks!
- Dean Katsiris
(12/23/05)
Got something to add? Please send Dean a note and let him know!